"At least we have a roof above our head." 
You must have heard this saying said by people who have lost everything, but are grateful for the house that still shelters them. That's how important the sense of security is for one's family, and at the same time, we also take it for granted, which can be extremely dangerous. To ensure the safety of your loved ones or colleagues, we at Spring Roofer Group provide the best services of roof repair Spring TX residents deserve. Our focus at Spring Roofer Group has always been to ensure your roofs' safety, and provide the best service so you can sleep without any fear or discomfort. We are determined to give top quality services of roof repair that people need. Our commitment to provide quality roofing Spring TX residents need is unmatched by any other company.
Need assistance in your Roofing Needs?
Services of Roof Repair Spring TX People Love
Our roof services have been our top strength, and any kind of existing damage, defect, or leak caused by your roof will quickly be fixed by our team at Spring Roofer Group, who will assure you that there is nothing to worry about. Amongst all professional roofers Spring TX homeowners can choose from, Spring Roofer Group has been the most trusted in the area, as we prioritize our customers above everything else. We have the best craftsmen working for us, who have experience and dedication that no other roofing contractors Spring TX folks have available can be proud of. As one of the most reputable roofing companies in Spring TX, we are known for not only offering high-quality service, but also for our affordable rates. As you know, roofing has to be contracted to a company that appreciates the trust given by the customer, and we never take that recognition and responsibility lightly.
We provide roofing in the areas all around Spring, which includes areas like Pearland, Houston, and Woodlands. We have proved our expertise in roofing over the years with a lot of hard work and determination, and our past customers would attest to that. We develop a relationship with our clients that ensures them that we value the opportunity to serve them. This approach has been the reason for our growth and popularity amongst the residents of Spring. The community here has rewarded us for our expertise and commitment to safety, and it's truly because of their trust that we have become the go-to option for roof repairs and servicing. We are constantly improving every day with all of the projects needed for roofing the Woodlands TX people desire, with every Pearland roofing assignment, and all of the expert roof leak repair Houston people can ask for! So, we intentionally spend time every day equipping our team with the latest technology to provide the required solution for fixing your roof to make it safe, stable, and healthy!
This company started with a passion for serving the people of Spring, as any kind of roof defect can become a giant source of stress, and unfortunately, the primary comfort and warmth of a home is compromised. No responsible adult would want such a problem to linger. This can create extreme anxiety if children and senior citizens live in a house with roof defects. Their safety will be uncertain, and their education and mental peace can get affected too. We often come across incidents where heavy rain or a fierce snowstorm can cause the roof of a house to collapse. It is essential to understand the severity of such accidents, and proactively look for preventative measures well in advance! After all, accidents happen without notice, but it is always expected to be prepared for the worst, and tackle unexpectations you may experience!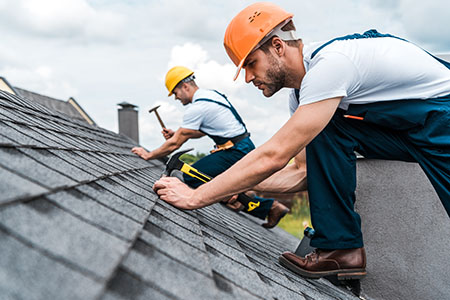 Spring Roofer Group is one of the leading roofing companies in Spring TX. Our company's main motive is to help you and your fam ily lead a safe life without worrying about the roof of your house. We use premium-quality equipment and trained service members to ensure complete protection while working on the top of your house, by using the most suitable preventive measures to avoid falls or fatalities. Amongst all the professional roofing contractors in Spring TX, our company promises to treat your family like our own. As we know, taking responsibility for ensuring safety is a difficult task. Still, we stand firm with our efforts and results, all due to the combination of the utmost care and precision that our team incorporates while fixing and preparing your roof! There are multiple reasons for the issues you might have with your roof, and all of it happens gradually with time. The average life expectancy of a roof is about 25 years, so it is imperative for you to ensure that you always have a fair idea of your roof's timespan after self-inspecting the shillings or any curlings on your roof to judge the best time to get your service from us.
Final Words from Our Expert Roofing Spring TX Locals Trust
It is our honor to be able to serve the people from Spring. Our clients from Houston, Pearland, and the Woodlands have been the best three locations for us to serve in. We have the best roofers that Spring TX has always relied on for taking care of their roofing requirements, and it is not an everyday incident where all three areas of service give you a great response. We are thrilled and privileged to have all the luck and expertise on our end to always provide you with premiere level services.
So, you can always contact us to remove all of your worries once we perform excellent roof replacement in Pearland for all of the residents. Simultaneously, our love for the people of the Woodlands encourages us to give our very best when it comes to providing exceptional roofing in the Woodlands TX people have grown to love. Last, but not least, of our three prime locations, we make sure that our consistent efforts deliver the best results, even for something as small as a simple roof leak repair Houston residents have frequently called us for! Lastly, we thank our clientele for choosing us, believing in us, and helping us through these years with the maximum amount of motivation and praise! We look forward to extending our services to every house who has difficulty with their roofs to provide a permanent and effective solution!
We are constantly learning more about roofing needs in technologies by collaborating with other local experts in different areas to become a precision roofing services providing company. In particular, we would like to mention one out – feel free to visit their website if you are interested in learning more about Roofers Lawrenceville. You`ll be glad you did!
This is a lead generation website all leads are sent to a licensed and insured contractors.